How To Create a Sensory Corner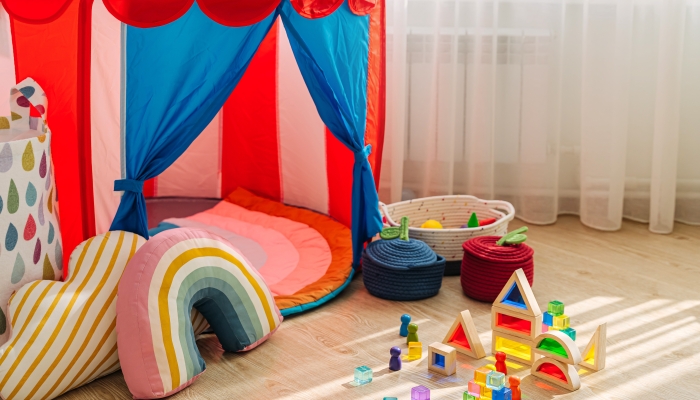 Sensory corners are spaces that help regulate sensory stimulation.
There are five important reasons to create sensory rooms or corners.
Include movement, seating, toys, and separation in your corner.
Keep your child's sensory corner out of the primary foot traffic.
It wasn't until I had my second child that I truly understood each child's specific needs when it comes to sensory stimulation. With personalities that couldn't be more opposite, one of my kids needed activities to calm themselves, the other to help bring their sensory stimulation to life.
Maybe you find yourself in a similar situation whether it's with your own children or even your students. Maybe you're looking for ways to help a child with their sensory issues or just get a child to finally focus. Whatever the reason, let this article be your guide to creating the best sensory corner that's sure to produce results.
What Is a Sensory Corner?
Child psychotherapist Siobhan Prendiville and co-author and play practitioner Maggie Fearn write in their chapter Coming alive: Finding joy through sensory play11. Prendiville, S. & Fearn, M.. Coming alive: Finding joy through sensory play. Creative psychotherapy: Applying the principles of neurobiology to play and expressive arts-based practice. 2017;121-135. https://books.google.com/books?hl=en&lr=&id=cCQlDwAAQBAJ&oi=fnd&pg=PA121&dq=sensory+play&ots=zag5dXSLYN&sig=IyRgyEHHv58yBLX3qdrC-CDueuM#v=onepage&q=sensory%20play&f=false, "Sensory play provides children, adolescents, and adults with the opportunity to perceive their internal and external environments and to process sensory information and make sense of what is going on."
Simply put, sensory corners are designated areas in a room where kids can go to help regulate their sensory stimulation. Whether they're feeling too much or too little sensory input, these corners are a safe space that provides activities to help.
Though sensory corners are most commonly used for children experiencing sensory processing disorder, autism, ADHD, and the like, their ability to either stimulate or calm isn't limited to those groups alone. These corners are a great way for all school-aged kids to self-regulate at home or in the classroom through a tailored sensory experience!
10 Sensory Corner Ideas You Can Easily Create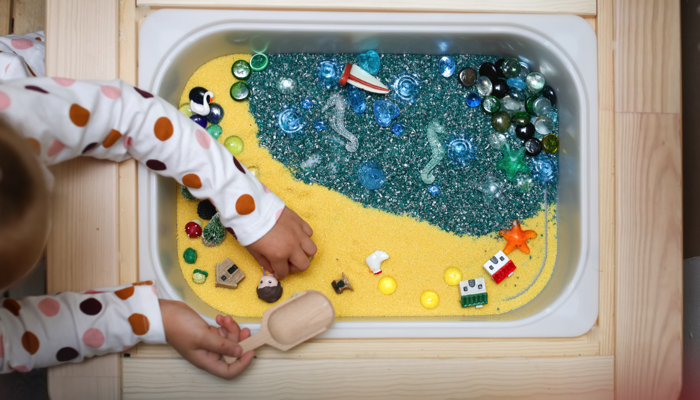 Sensory corners don't have to be as elaborate as some may think. A small sensory space or even one created on a budget can be just as successful as the bigger and more expensive ones. If you don't know where to start, no worries! Here are a few sensory corner ideas you can easily recreate:
Comfortable Seating: Sometimes, kids just need a comfy place to lie to fidget with a toy or take their brains out of gear.
Instruments: A hearing stimulation, no doubt, instruments can spark creativity, and the best part is they're rather inexpensive for a set.
Water Table: Fill it with sand or water! There's no shortage of interesting activities these tables can hold, covering the majority of the senses too.
Playdough: A classic activity with great tactile stimulation, kids can create whatever their heart desires while refining their fine motor skills. Try this rainbow playdough cutting station as a start!
Foam Play Sets: Expensive but well worth the cost, foam or soft play sets act as an indoor jungle gym for climbing, jumping, and playing.
Mini Garden: The feel of the dirt, the smell of the plants, the visuals and movement that go into watering; mini gardens shouldn't be underestimated!
Crash Pad: A giant mat made soft for hard landings, kids can jump, fall, or climb around on a crash pad to get some energy out.
Tunnels: A great way to develop motor planning and coordination, pop-up tunnels fully engage the child's body in disguised fun.
Balancing Toys: Try some stepping stones or even a balance board to help them focus and improve gross motor skills.
Gel Floor Tiles: Newer to the market, gel floor tiles can be used as stepping stones, even having a fun finger painting effect up close minus the mess.
What Should You Include in a Sensory Corner?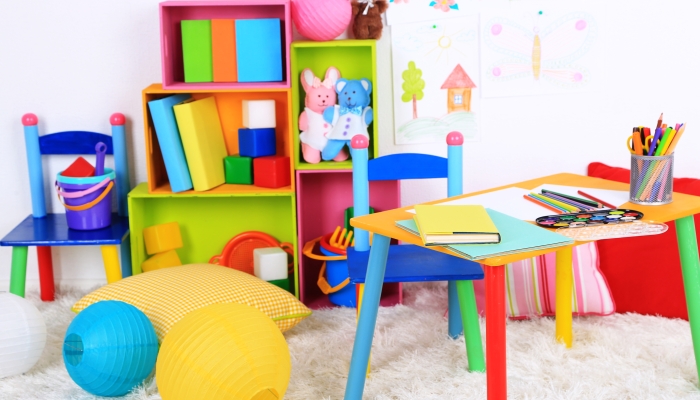 What exactly do you need to include to make your sensory corner a success for your child's development? Here are some key elements you don't want to miss:
Movement: Depending on the space you're working with, try including some means of movement in your corner. A sensory swing (cocoon swing) or even a mini trampoline are good options for this.
Seating: Different types of sensory seating are available that serve a wide range of needs. For example, inflatable or squishy chairs can give kids the sense of security they need, while motion stools and exercise balls provide stimulation.
Toys: Sensory toys abound, so it can be tough to choose only a handful. Variety is the key to making your selections, being sure to target all the senses. Some examples include fidget toys, lava lamps, pop-it toys, slime, bubbles, and more.
Separation: It's critical that this corner feels separate from the rest of the space to reduce outside distractions. To do this, set up a tiny tent, partition, or canopy. A mat or carpet on the floor can also help to define the borders of your sensory space. Couple that with options for white noise, noise-canceling headphones, or even soothing sounds to calm sensory overload.
Where Should You Put a Sensory Corner?
A sensory area can be used in many settings, from classrooms to your child's own bedroom. As you see from the name, they're almost always placed in the corner so they can be undisturbed and out of the way of regular foot traffic. Keeping it secluded like that is a good rule of thumb for the placement of your sensory system.
That said, if a corner isn't available, a spare closet will do, too; don't be afraid to get creative! You want to ensure your sensory space is away from areas that are prone to regular noise and a place where you can control the lighting. Keep the corner away from the windows so you can have a dim, calming ambiance, mitigating the risk of sensory overload.
What Are the Benefits of a Sensory Corner?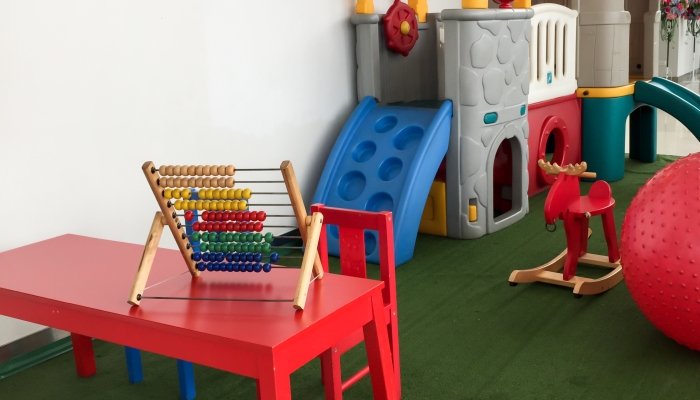 Whether you have a child with something like sensory processing disorder or you're just hoping to get a leg up on your child's sensory development, here are five reasons to create a sensory corner:
Fosters Curiosity: You'll find that many of the resources for sensory corners can be pretty unique. Kids will naturally become curious, tinkering with these items and exploring how they function.
Enhances Focus: A common reason for creating a sensory corner is their ability to harness focus. With all distractions blocked out, kids are able to focus on the task or toy right in front of them, improving their ability to concentrate over time.
Promotes Learning: Kids can learn a lot from sensory play as each time it continues to develop their senses, motor skills, problem-solving, and the like. What seems like play is actually so much more!
Aids in Decompression: Sensory corners can aid in taking stress off children since many of the resources in these corners provide a sense of comfort, many with soothing components as well.
Nurtures Socialization: For kids that have a tough time socializing, sensory corners can help break the ice. Small group play in a calm, controlled environment may be exactly what they need to nurture friendships.
FAQs
How can I make a sensory corner accessible for children in wheelchairs?
A wheelchair-accessible sensory corner comes down to space and reach. Make your corner a little larger, with ample room for entry and turning radius. Be sure that all the sensory equipment in your corner can be reached and not stored too low. Likewise, try purchasing height-adjustable tables so they can be immersed in all the sensory experiences.
What are some ways to involve my children in the process of creating a sensory corner?
Start by examining their sensory needs and go from there. Give them options for toys and sensory activities you're considering for their corner, and let them pick a few that excite them. Try asking them about colors they might want to incorporate or what seating they think they'd use the most.
Reference
Prendiville, S. & Fearn, M. (2017). Coming alive: Finding joy through sensory play. In E. Prendiville & J. Howard (Ed.), Creative psychotherapy: Applying the principles of neurobiology to play and expressive arts-based practice. (pp. 121-135). Routledge/Taylor & Francis Group. https://books.google.com/books?hl=en&lr=&id=cCQlDwAAQBAJ&oi=fnd&pg=PA121&dq=sensory+play&ots=zag5dXSLYN&sig=IyRgyEHHv58yBLX3qdrC-CDueuM#v=onepage&q=sensory%20play&f=false
Related Posts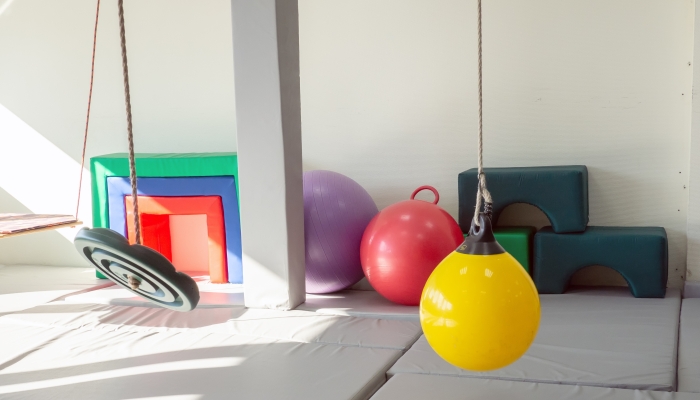 Sensory Activities
Have you considered creating a sensory room or sensory space in your home? It doesn't have to be difficult or expensive. Take a look at these simple ideas.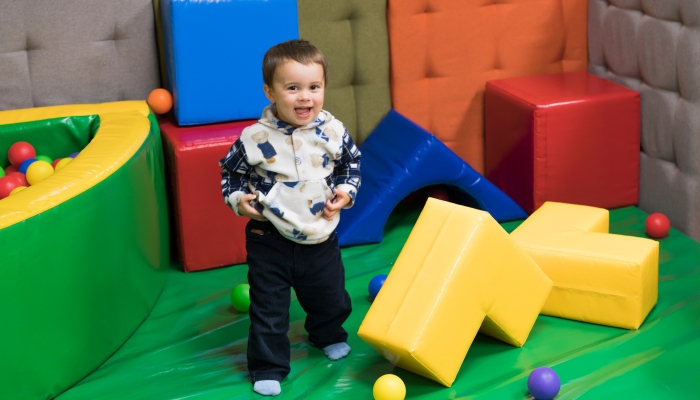 Sensory Activities
Sensory soft play delights the senses but did you know it also helps develop your child's physical, social, emotional, and cognitive skills, find out more.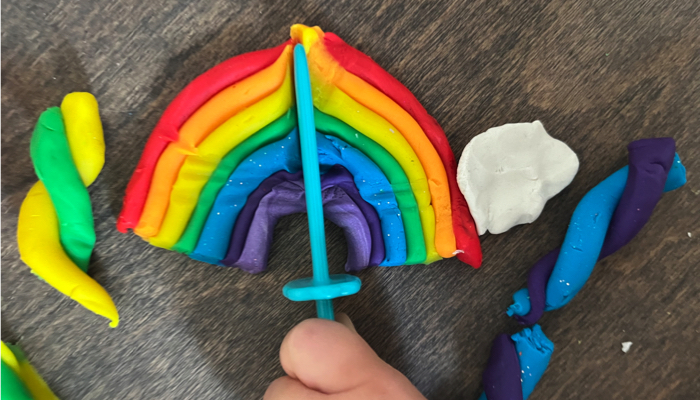 Play, Sensory Activities
This rainbow playdough cutting station is perfect for fine motor skill practice. Grab your playdough supplies and have some fun with your little one!