Mushroom Land Color Sorting Activity
This post may contain affiliate links; please see our terms of use for details.
As part of our homeschool routine, I often give my toddler independent activities while I school the older children. This usually include games focusing on shapes, colors, numbers, etc. While I also try and sit with my toddler occasionally, it's helpful to have activities she can do without my help.
Pronouncing words has been a particular challenge for her, so I've been gathering all the language activities for preschoolers I can find. Lately, I've been working with her on color identification. To support this goal, I created this fully independent color sorting station.
What child doesn't love magical little lands with tiny people? This mushroom land includes colored pads, polka-dotted mushrooms, and smiling little people. Your child will love creating each miniature land for all the colors of the rainbow.
This wooden, Montessori-inspired set only takes a few materials and is quick to create. Follow along to see how easily you can create this Mini Mushroom Land Color Sorting Activity that will generate hours of learning and play.
Mini Mushroom Land Color Sorting Activity: What You'll Need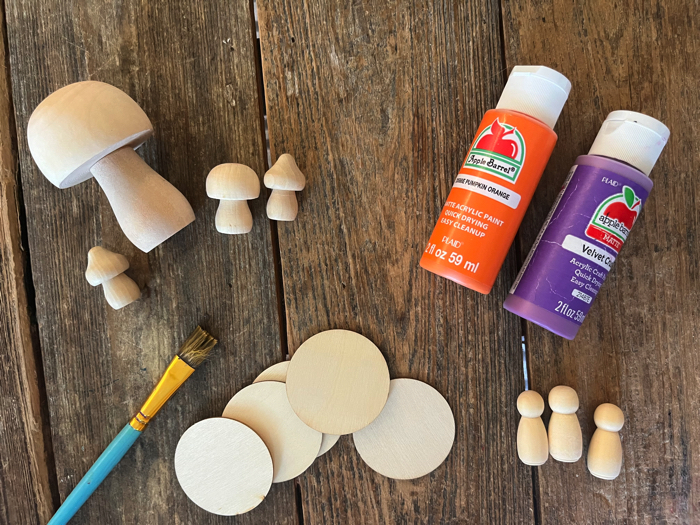 Wooden Montessori toys can be costly. Thankfully, you can easily make your own for a fraction of the cost. Here's what you'll need to create this wooden mushroom and peg doll activity:
Materials:
Acrylic Paint
Paintbrushes
Modge Podge (optional)
Puff Paint for Polka Dots (optional)
Setup:
In order to prepare the activity for your child, you'll want to paint the pieces ahead of time. I painted mine at night while the kids were sleeping so they'd be dry in the morning. This kept them from accidentally being grabbed while the paint was wet.
Choose one mushroom, one peg doll, and one circle to paint in the same color. You can paint only pieces of each item in that color or the entire thing. I chose to paint the tops of the mushroom and the bottoms of the peg dolls to create some contrast.
Helpful Hints:
When painting peg dolls, you can make them even cuter by adding details like eyes and mouths. The mushrooms are fun to cover in polka dots. It's perfectly fine to leave them plain, as well.
As soon as your items are dry, you might want to cover them with Modge Podge to keep the paint from chipping off.
Time to Play
Once the paint is dry and all pieces are ready for play, you'll find a variety of ways your child can use this activity set:
Sorting by Color
This will likely be the first way your child plays with the set. The colors are so bright and fun that it makes sorting by color an obvious choice. Each circle is big enough to fit the mushroom and matching peg doll on top.
As your child creates each color "land," have them name the color they see. This helps reinforce color names.
Sorting by Size
What I love about this cute mushroom set is that they all vary in size. My daughter loved lining them all up from tallest to shortest. This also gave us the opportunity to talk about tall, taller, tallest, etc.
Pretend Play
Don't underestimate the power of pretend play. Turning the peg dolls into characters and playing pretend shows that your child is progressing in the stages of play. During pretend play, a child gains empathy, strengthens their language skills, develops thinking skills, and so much more.
It's essential to allow your child to just enjoy the gift of play. After they've sorted the items by color, give them time to explore. They'll continue learning without you even having to guide them.
Stacking
The circles make excellent stacking objects in this activity. Let your little one stack them up and see how many other items can fit on top before toppling over. Kids learn valuable problem-solving skills when playing with building toys like wooden blocks and other stackable objects.
What else can we add to this mushroom activity set?
This activity would be great paired with a mushroom-themed sensory table idea. You could use artificial moss, brown rice, pretend bugs, wood chips, etc. If your child isn't into bugs, you could make it fairy-themed instead, with fairy wings for the peg dolls, glitter, and rainbow-colored rice.
Unfinished Wooden Cars
Wooden Cars Kits: the package comes with 12 pieces of DIY wood cars, 4 different styles are available, the size is about 7 x 3.8 x 3.8 cm/ 2.76 x 1.5 x 1.5 inches, the unfinished craft projects allow you to design your own cars
Solid Wood: these DIY woodworking toys adopt quality wood, smooth on the edge and no burrs, so you needn't worry about scratching, the wood is sturdy and skin friendly, not easy to break or deform, suitable for long term use
Be Creative: whether you want to build, paint, or play, our unfinished wood cars can meet your different needs, you will enjoy putting them together and painting them brightly with paintbrushes, promoting creativity and stimulating motor skills
Delicate Presents: these woodworking toys wood crafts are cute, soothing, and entertaining, which are ideal gift choices for students, children and partners, helping you spend a happy family time; The wooden car to paint is also an attractive party favor and classroom prize
What other wooden items can I use for color sorting?
While searching for the wooden mushrooms, I stumbled upon countless other wooden toys. This got me thinking about other color-sorting activity sets parents could create. Painted wooden cars, trains, birdhouses, or boxes would all make great items for a color-sorting set.
What other ways can I teach color identification?
Color identification can be done anytime. In the car, you can play eye-spy and have your child look for a certain color. You can also name the colors of your fruits and vegetables while you're putting the groceries away.
Once your child has their color names down, you'll want to work on helping them identify the color words. You can do this by writing color names on pieces of masking tape and having them label items around the house. You can also create color sorting sets that allow your child to match the color name with the color.
Are there other benefits to playing with this set?
These cute mushrooms do more than help your child learn their colors. Here's how else they can support your budding learner's skills:
Strengthens Fine Motor Skills
Grabbing, stacking, and sliding objects with your hands all develop the muscles needed for fine motor activities. In the early years of development, it's crucial that children develop these muscles. Strong fine motor skills lead to success in cutting paper, tying shoes, writing letters, and so much more.
Playdough is one of my favorite fine motor activities for preschoolers. In fact, I'll often set up stations, such as a Rainbow Playdough Cutting Station, to give my toddler more practice cutting, rolling, pinching, and molding.
Develops Eye-Hand Coordination
As your child moves the pieces around, they'll be making connections in their brain between what they see and what they touch. This is called hand-eye coordination. This valuable skill begins developing in infancy and continues as your child grows.
You can help your child continue to develop this skill by offering other hand-eye coordination games.
What other ways can I enrich this activity?
Little lands full of miniature people and magical mushrooms are fun to explore. Here are a few other ideas for exploring mushrooms:
Read the book Mushroom Lullaby by Kenneth Kraegel 
Go on a nature walk and look for mushrooms (This is a great opportunity to teach your child about mushroom safety) 
Make mushrooms out of play-doh or air-dry clay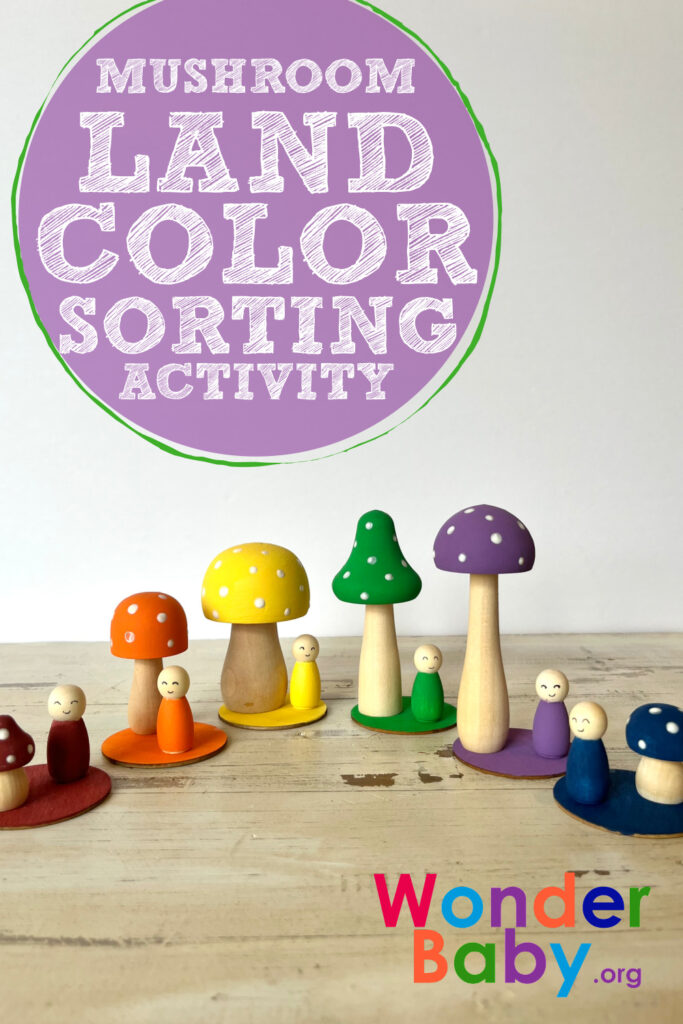 Related Posts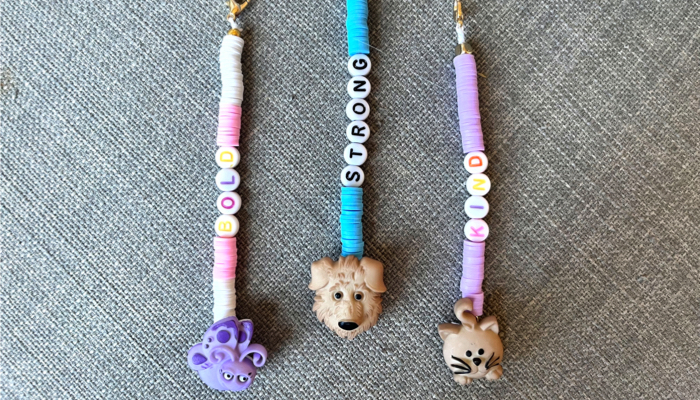 Parenting, Play, Tactile Art
These affirmation backpack buddy keychains are adorable and easy to make. Give your child a little encouragement with this simple craft as they head to school.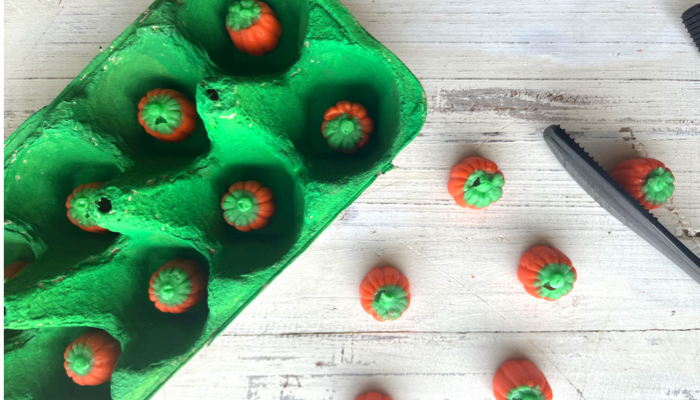 Fine and Gross Motor, Play
This adorable pumpkin picking fine motor activity is a breeze to make! A perfect fall activity for preschoolers and toddlers alike.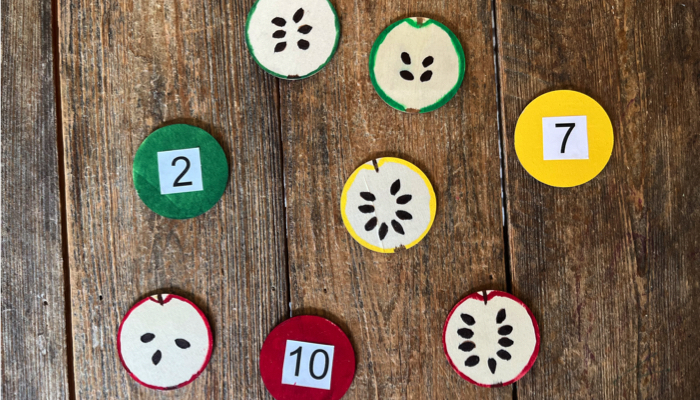 Math and Science, Play
This apple seed counting game is easy to create and fun to play! With just an oatmeal container and a few supplies, you can surprise your child with this delightful...