21 Sensory Room Ideas to Try at Home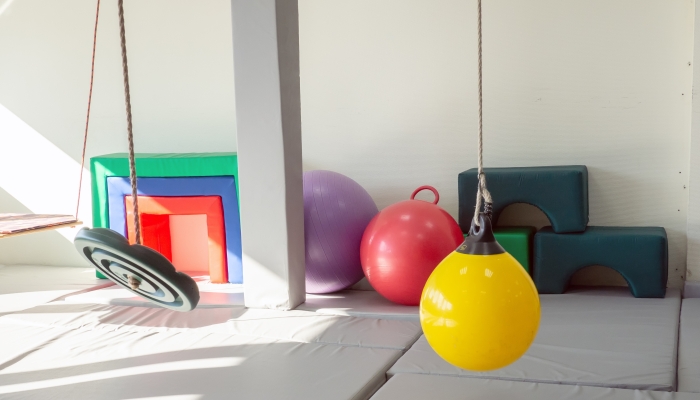 This post may contain affiliate links; please see our terms of use for details.
Sensory rooms can benefit all children, but are particularly effective for kids with autism, ADHD, sensory processing disorder, or other emotional, physical, or developmental issues.
A sensory room in your home can provide a calm space where your child can decompress from overstimulation.
You can also create multi-sensory environments with specific objects and materials that stimulate your child's sensory needs and help them process sensory information.
You can tailor a sensory space in your home to your child's needs with simple and inexpensive products and items they will enjoy.
Creating a sensory room or space in your home doesn't have to be complicated. Although many "sensory products" are marketed to parents, it's really more important to consider your child's specific needs and preferences for sensory stimulation when designing your space.
Adding simple elements to a room like galaxy lights, soft bean bags, or even just a pop-up tent where your child can relax with a weighted blanket can be enough to soothe anxiety, help your child focus, or to give them a sensory break.
For children working on gross motor skills or who need a safe place for movement, sensory hammocks and soft play blocks are also easy additions to your sensory room.
We've found some simple sensory room ideas to try at home to help you make a great sensory space where you and your child will love spending time.
How to Create a Sensory Room at Home
A sensory room is a safe space that provides children with multisensory experiences to help with any or all of the following:
Although any child can benefit from a multi-sensory room, they are beneficial, effective, and enjoyable for children with autism, ADHD, sensory processing disorder, or other emotional, physical, or developmental disabilities, delays, or disorders.
You may have come across elaborate sensory rooms in your child's school, clinic, doctor's office, or, more commonly now, in public spaces like children's museums or airports. Some sensory rooms may include equipment like sensory swings or sensory soft play blocks.
However, you can create an amazing, dedicated sensory room or space in your home tailored to your child's specific preferences and needs without spending a lot of money or hauling in a lot of special equipment.
What should you consider when designing a sensory room?
When creating a sensory room, sensory corner, or other space in your home, consider the following in your sensory room planning process:
Not all children will enjoy all sensory equipment, products, toys, or lights that are marketed as sensory solutions. An effective sensory space in your home should be tailored to your child's needs and preferences and, most importantly, be a safe place for sensory play and relaxation.
21 Simple Sensory Room Ideas
Lights and Visual Sensory Input
Creating different lighting effects is one of the simplest and least expensive ways to create sensory spaces for children who respond to visual sensory stimulation. Try the following:
Dim the room: Use blackout curtains for windows, install dimmer switches or use floor lamps, and avoid overhead fluorescent lights.
LED lights: LED lights come in strips you can put around the ceiling or floor or as curtains of light that change color and patterns. They're a simple and easy way to change the room's atmosphere.
Light projectors: Galaxy lights and light projectors work well on walls and ceilings that are painted a darker color or use them against dark curtains.
Bubble tubes: Children love bubble tubes, where they can watch bubbles float through changing colors and lights. Some include fish or other floating objects for interest.
Sound and Auditory Input
For some children, sound can be calming when they're overwhelmed by too much sensory information. They might like sound in the background, or they might want to create it themselves with some of these ideas:
Music: Allow your child to choose calm music that they enjoy and make it available for them to play either for the entire room or in personal headphones.
Ambient sound: Play recordings of nature sounds like waves, raindrops, or sounds of the forest, which you can find on music and meditation apps.
Rain stick: Loved by children of all ages and abilities, a rain stick provides calm auditory and tactile sensations. Transparent plastic rain sticks also provide visual stimulus.
White noise: If your child finds music or other sounds too stimulating, they might prefer the background hum of a white noise machine. 
Instruments: Instruments like a steel tongue drum or meditation chimes create soothing sounds and help with fine and gross motor skills. My kids love their steel tongue drum and find it absorbing and calming. 
Equipment for Physical Stimulation
For a multi-sensory environment that encourages work on balance, movement, and exercise, check out some of this great sensory room equipment:
Sensory hammock: Large sensory swings can be hard to install and expensive, but a sensory hammock takes up less space and offers kids a lovely relaxing place.
Indoor climbing gym: Indoor climbing equipment can range from simple climbing ladders and triangles to more complex indoor jungle gyms, depending on your child's abilities and goals. 
Wobble board: Wobble boards are great for working on balance and for rocking. Kids can stand or sit in them. Flip them over, and they can crawl over the arch. They've got loads of uses. 
Balance balls: Balance balls are great for stretching, playing, balance, and core strength. They come in many sizes, including kids' sizes. My sons had a balance ball chair which helped with focus while satisfying their need to move. 
Soft play blocks: Soft play blocks are great for climbing, sliding, crawling, carrying, pushing, building, or even just for relaxing. They've got tons of great sensory uses. 
Sensory mat: Sensory tiles offering different textures and colors can be great for sensory-seeking kids to walk on, manipulate, and explore. 
Relaxing Elements to Reduce Stress
If the purpose of your room is to reduce sensory overload and promote relaxation, creating a comfortable space with soft seating and cozy corners will be key. You can create this atmosphere easily with some simple pieces:
Bean bags: Bean bags are great for soft, comfortable, and tactile seating. Bean bag chairs are a more structured option. Look for textured, sensory fabrics like velvet, corduroy, or micro suede.
Weighted blanket: Weighted blankets offer deep pressure stimulation that some children find calming. Be sure to choose an appropriate weight and size for your child's age that they can handle easily. Again, velvety, textured covers add a tactile sensory element. If a whole blanket is too much, look for smaller weighted lap pads. 
Headphones: Many kids find noise-canceling headphones very useful for focus and concentration. Let your kids use them with calming music, ambient sound, or just to help them find some quiet. 
Sleeping bag: Keeping a sleeping bag in your sensory space gives your child a cozy spot to relax. As with weighted blankets, choose sleeping bags appropriate to your child's age and size. 
Sensory tent: A tent or teepee is a great way to create a sensory space or a quiet corner in your sensory room, which you can fill with pillows, sleeping bags, and stuffed animals.  
Liquid floor tiles: Although you can find tiles like these as smaller fidget toys, big liquid tiles for kids to walk on or play with to watch the colors change can be a nice visual, tactile, and stress-relieving element for your room. 
Why Is a Sensory Room Beneficial for Children?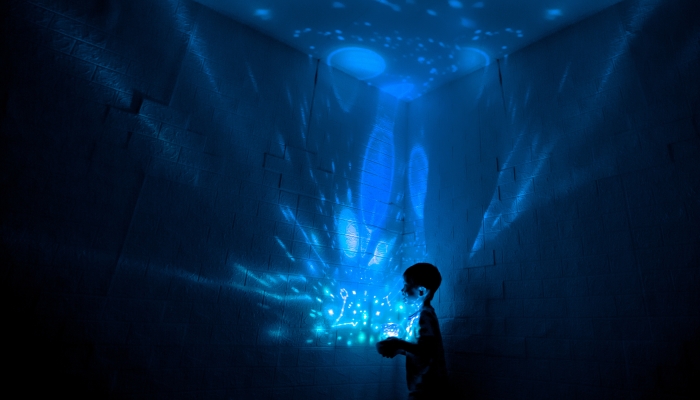 According to the National Council for Special Education11. Sensory Spaces in School. National Council for Special Education. 2021. https://ncse.ie/wp-content/uploads/2021/10/NCSE-Sensory-Spaces-in-Schools-2021.pdf (NCSE) the many benefits of a sensory can include:
Reducing sensory overload for children who get anxious or overwhelmed
Increasing sensory input for children who need more sensory and tactile experiences to improve self-regulation
Promoting self-care, self-help skills, empowerment, skill development, self-esteem, resilience, and recovery
In addition to relieving stress, improving focus, and developing communication and social skills, experts at St. Jude's Health Care Services22. The Many Benefits of Sensory Rooms. St Jude's Health Care Services. 2021. https://stjudes.com.au/news/the-many-benefits-of-sensory-rooms also point out that sensory spaces and sensory equipment have positive effects for children with physical difficulties such as:
Developing visual processing abilities
Developing fine motor skills
Providing opportunities to exercise gross motor skills
Improving balance and movement
Academic evidence on the positive effects of sensory rooms is inconclusive. However, anecdotal evidence and experience of parents, teachers, and professionals suggest that they do benefit children.
These benefits for children with different disabilities and learning difficulties are why so many schools are creating sensory rooms and spaces. Having some time in a sensory space can help students return to the classroom better able to cope with the environment and to focus.
To use a sensory room effectively, the NCSE suggests the following:
Use a time or visual schedule to help structure your child's time and to aid them in transitioning into and out of the room.
Do not use or withhold the room as a reward or consequence in behavior management.
Structure your child's time in the sensory space and guide them.
Remain flexible and adaptable, observe how your child responds to different room elements, and make changes as necessary.
References
Sensory Spaces in School. National Council for Special Education. (2021). https://ncse.ie/wp-content/uploads/2021/10/NCSE-Sensory-Spaces-in-Schools-2021.pdf
The Many Benefits of Sensory Rooms. St Jude's Health Care Services. (2021, October 27). https://stjudes.com.au/news/the-many-benefits-of-sensory-rooms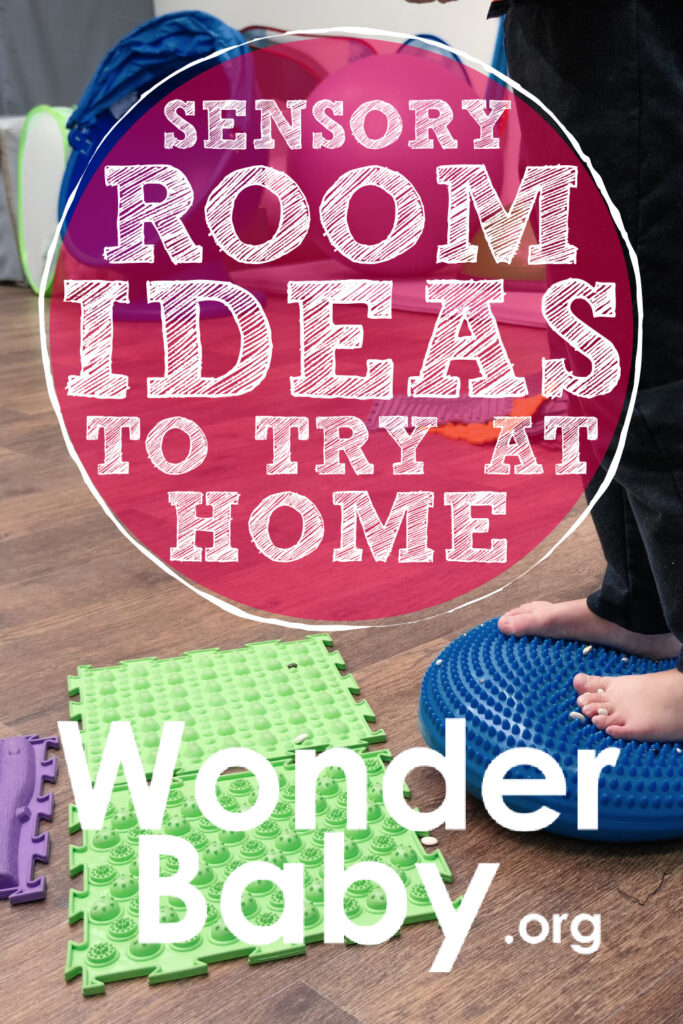 Related Posts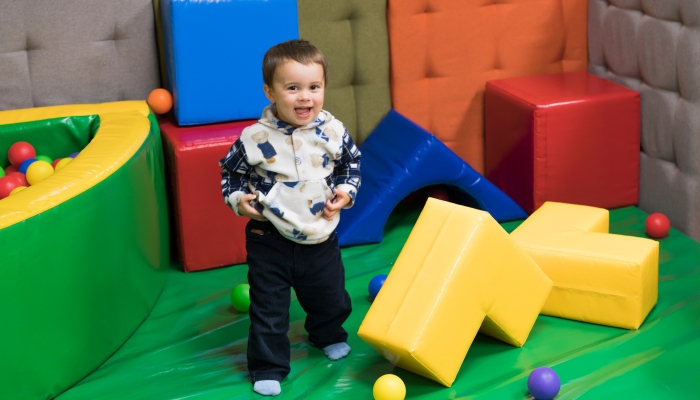 Sensory Activities
Sensory soft play delights the senses but did you know it also helps develop your child's physical, social, emotional, and cognitive skills, find out more.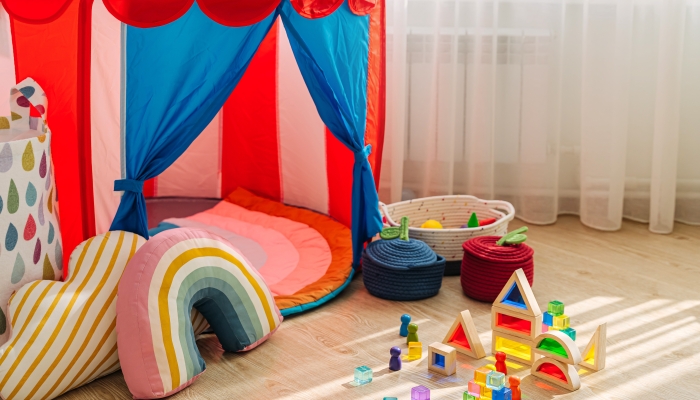 Sensory Activities
If you're looking for resources to help your child's sensory regulation, look no further than a sensory corner! Learn how to create the perfect sensory corner.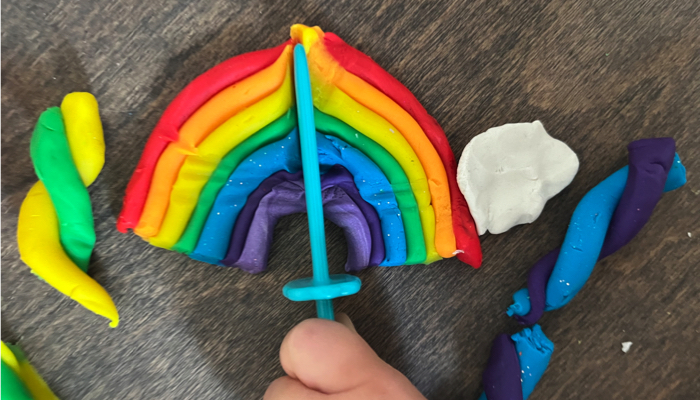 Play, Sensory Activities
This rainbow playdough cutting station is perfect for fine motor skill practice. Grab your playdough supplies and have some fun with your little one!