Sensory Play: 5 Hands-On Activities for Preschool Sensory Development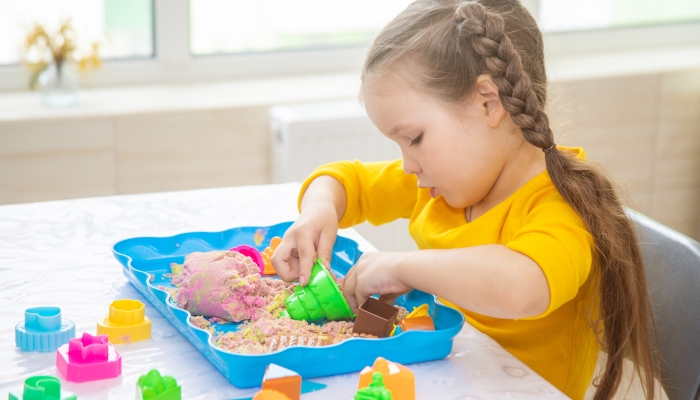 This post may contain affiliate links; please see our terms of use for details.
Sensory play includes any activities that engage a child's five senses.
Sensory play ideas do not have to be complicated or expensive to help kids explore learning through their senses.
Sensory play activities help your child learn even when they are fun and unstructured.
Children learn through play, and sensory activities help young kids develop their cognition, language, and social skills.
Children engage in sensory play naturally, often without knowing it. Daily activities like riding a bike, blowing bubbles, jumping in a ball pit, writing with sidewalk chalk, or making cookies all engage your child in sensory learning.
However, you can enhance your child's sensory engagement with fun sensory materials, toys, and activities.
Take a look at our guide to hands-on activities for preschool sensory development for some fantastic fun ideas you can try at home.
Activity 1. Water Play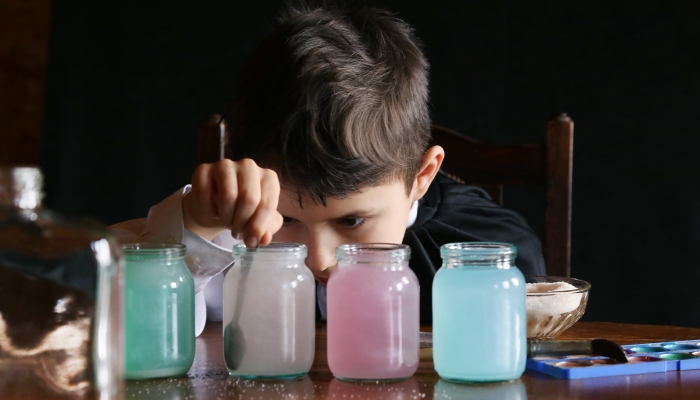 Playing with water is endlessly fun for children, but it can also have a calming effect while teaching them about physics and science along the way. Try this water activity:
You will need:
Three clear containers, like glasses, for primary colors
Three empty clear containers for mixing secondary colors
Spoons
Water
Food coloring
How to play:
Start with clear water in your primary color containers. Add a few drops of one primary color to each container: red, yellow, or blue. Let your child describe how the color spreads in the water. Give them a spoon for mixing.
Next, have your child pour some red and yellow together in an empty container to make orange. Repeat with the other containers to mix yellow and blue and red and blue. Allow your child to mix the colors and add more food coloring.
For a variation on this sensory activity, dip strips of paper into the different colors to watch how the colored water moves up the paper and observe what happens to the color.
This sensory activity develops fine motor skills, like pouring and squeezing, as well as skills like color recognition and learning about the color spectrum.
Activity 2. Sensory Bins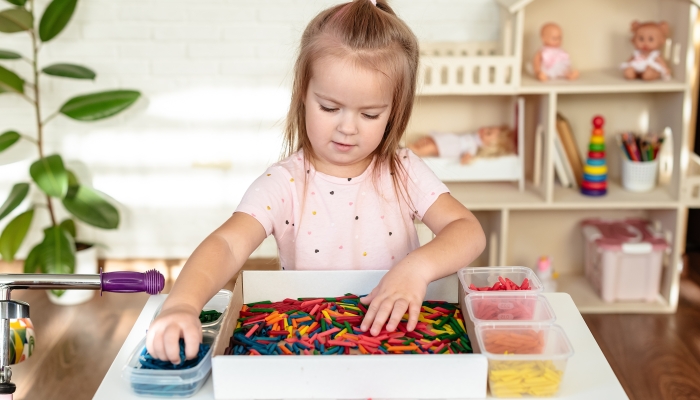 Sensory bins are an easy and inexpensive way to give your child a tactile sensory play experience for lots of hands-on fun. There are many variations on this fun activity, and younger kids will return to their sensory bin again and again.
You Will Need:
Box, bin, or container with solid sides. You can use anything from a shoe box to a bucket, but large, clear, plastic storage bins often work well.
Sensory filler like sand, uncooked pasta, colored uncooked rice, kinetic sand, dry beans, Easter grass, cotton balls, water, or cloud dough.
Kid-friendly tools, like scoops, spoons, popsicle sticks, or measuring cups.
Sensory table or other flat surface that your child can comfortably reach and that is easy to clean.
How To Play:
The first step of sensory bin play is to create your bin. Give it a base with your chosen filler and then add interesting items for your child to explore. Check out these sensory bin ideas:
Aquarium Bin

Fill your bin with water.
Add ocean-themed toys like plastic fish, sea creatures, and boats.
Add food coloring to change the color of the water for added interest.
Give your child scoops and cups to pour with.

Dinosaur Bin

Fill your bin with sand, kinetic sand, or cloud dough.
Bury any dinosaur toys you have in the bin.
Give your child a scoop, spoon, or mini shovel to find the dinosaurs.

Alphabet Bin

Fill the bin with the filler of your choice.
Add any letter-themed magnets or puzzle pieces you may have.
Let your child feel the letter shapes as they play in the bin.

Sand and Shell Bin

Fill your bin with sand, kinetic sand, or cloud dough.
Bury sea shells and pebbles under the sand.
Have your child dig out and count the shells.
Add water to the sand and help your child press them down to see what imprints they leave.
Sensory bins give your child a fun sensory activity they can self-direct. They enhance their learning through unstructured play while they have a blast exploring texture, shape, color, and sound. However, sensory bins can also pose choking hazards, so be sure your child's play is always supervised.
Activity 3. Sensory Walk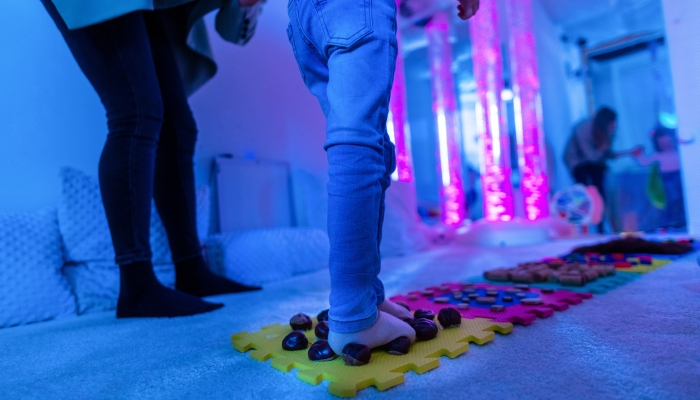 Children learn so much about the world through tactile activities. While they may play using their hands a lot, let them explore how things feel on their feet. Try this activity for some fun sensory exploration, best done outside!
You will need:
Several bins or containers that your child can step into, one for each texture you are using.
Different sensory items to put in each bin, for example, craft poms poms, smooth pebbles, sand, feathers, cotton balls, play dough, grass, leaves, fabric scraps, and anything that would feel interesting on their feet.
How To Play:
Set up your bins in a path. Ask your child to step into each container barefoot and describe how it feels. If you use water or shaving cream, be careful of slipping and have a towel available.
Ask your child whether each element feels different on their hands compared to their feet.
For another version of this activity, have your child step across leftover bubble wrap to pop the bubbles. It's fun and loud, and it never fails to delight.
This activity helps your child with balance, stimulates the proprioceptive and vestibular systems, and also helps with language development.
Activity 4. Shaving Cream Alphabet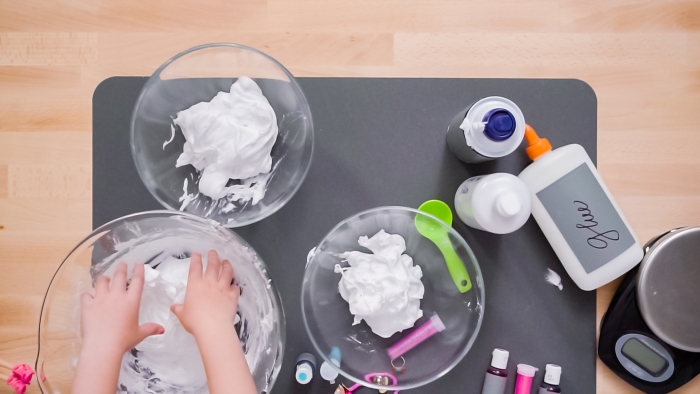 Shaving cream is a great and inexpensive sensory tool. Always keep some handy, but beware, it's definitely not mess-free!
This is a fun way for children to learn the alphabet. We did this with my sons, who have dyslexia. Dyslexic children benefit from associating touch with letter formation.
You Will Need:
Can of shaving cream
Tabletop or flat surface with a wipe-clean tablecloth
Smock for your child (optional)
Spatula for smoothing out the cream
How to Play:
There are two different ways to play, depending on your child's abilities.
Spray a layer of shaving foam onto your surface. Ask your child to write their name and letters or draw in the cream using their finger. Let your child explore using the spatula to make a smooth surface.
Or:
Give your child the shaving cream if they're able to press the top. Ask them to write their name in big foam letters on your surface.
The small movements of tracing the letters help with fine motor skills and letter recognition as well as stimulating the sense of touch. Large movements writing with the can help with gross motor skills.
Activity 5. Make Your Own Musical Instruments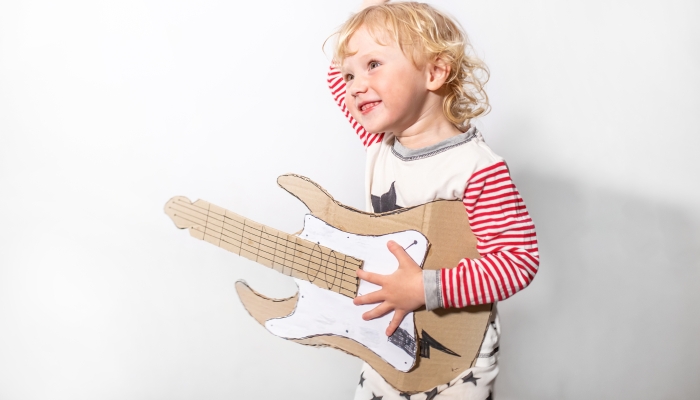 Music and sound are essential to sensory learning. While musical toys can be fun, showing your child how to experiment with sounds themselves is easy and fun.
You Will Need:
For the sound tube:
Cardboard paper towel tubes
Duct tape
Dry pasta, beans, rice, or lentils
For the box guitar:
Empty rectangular cardboard box, i.e. shoe box or tissue box
Rubber bands
Cardboard tube
How To Play:
Sound Tube: Make a sound tube by sealing one end of a cardboard tube with duct tape. Add your chosen filler and seal the other end.
Fill a few tubes with different materials and talk about the difference in their sounds.
Box Guitar: Make a box guitar by first cutting a hole in the lid of a shoe box. Tape the lid to the box. Stretch rubber bands across the hole. Tape a cardboard tube to one end to create the guitar neck.
Talk about the different sounds the rubber bands make and why.
This is a brilliant early STEM activity as well as a way to stimulate your child's interest in sound.
Essential Components of Sensory Play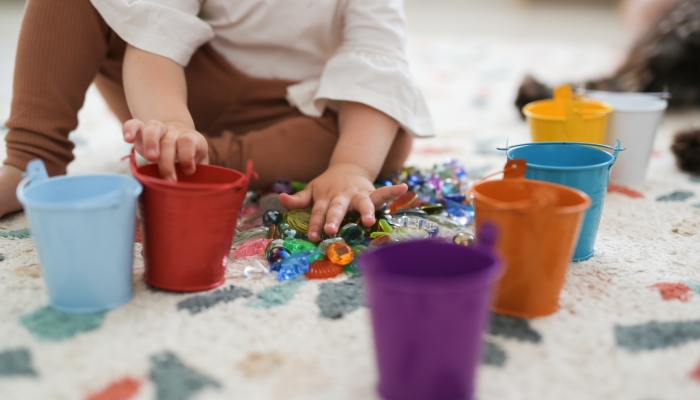 Sensory play includes activities that engage the five senses: sight, sound, smell, taste, and touch. These activities aid cognitive development, language skills, social skills, and motor skill development.
According to experts at the Cleveland Clinic11. Cleveland Clinic. What Is Sensory Play? The Benefits for Your Child and Sensory Play Ideas. Cleveland Clinic. 2022. https://health.clevelandclinic.org/benefits-of-sensory-play-ideas , sensory play also addresses two other sensory systems:
Proprioception refers to our awareness of our body in space and how body parts function together.
Our vestibular sense helps us to maintain balance.
Sensory play helps with cognition and socialization, and many children also find sensory stimulation calming. It helps children learn to self-soothe, self-regulate, and process their emotions.
Basic Sensory Materials
Creating great sensory play experiences for your preschooler doesn't have to be complicated or expensive. Many toys, gadgets, and art materials are marketed as "sensory," but you don't need to invest lots of money in products with this label. You probably already have many items that will make excellent components for sensory play.
Almost any household item can help create an amazing sensory experience. However, only use items that are age-appropriate, safe, and non-toxic in case your preschooler ingests them.
Small, tactile sensory items, like pebbles and dry rice, can pose a choking risk, so always supervise your child's play.
Natural sensory elements

Sand
Water, including blocks of ice
Leaves, mud, soil, pebbles, and sticks (always use under supervision)

Manufactured sensory elements

Playdough
Slime
Kinetic sand
Finger paints
Colored sidewalk chalk
Hair gel
Shaving cream

Items you already have around the house

Measuring cups
Cardboard tubes and boxes
Dry rice, pasta, and beans (always use under supervision)
Food coloring
Musical toys, rain sticks, bells, and tambourines
Arts and crafts items like glitter, popsicle sticks, puff balls
Stuffed animals
Bubble bath

Protective gear

Kid-sized smocks or aprons
Newspaper or wipe clean tablecloths to protect floors and furniture
Create Sensory Spaces
You've probably seen sensory rooms filled with expensive equipment and would love to create the ultimate sensory space for your child, but do they really need to be big and expensive?
Fortunately, you can create a small sensory space on a budget that your child will love just as much!
Indoor Spaces: Create a calming sensory corner. Choose a space in your living room or child's bedroom. Cover the floor with textured and colorful foam tiles and include sensory light toys for added interest. Add a bean bag and pillows along with stuffed animals for comfort. Complete the space by adding sensory sequin fabric, textured wall decals, or chalkboard paint to the walls. Leave items out that your child likes to play with, like fabric swatches, musical instruments, or tactile toys.
Outdoor Spaces: All of your child's senses are engaged when they're outside playing in nature. Outdoor sensory play helps develop your child's gross motor, language, and social skills. It also gets them interested in the natural world, which leads to engagement with STEM activities.
MioTetto Soft Non-Toxic Baby Play Mat
🤗 DESIGNED FOR KIDS & BABIES: MioTetto foam play mat is a great solution for creating an optimal, safe, learning and playing space for your little angel. Soft, colorful, and super easy to assemble, these play mat tiles for kids are a great solution for the nursery or playroom.
😴 SUPER SOFT: This baby floor mat is made entirely out of EVA foam, a soft material that feels great to the touch and protects your child's every step. Because we put your kid's safety first, we have made sure that our interlocking floor mats for kids are free of lead, BPA, phthalates, or other harmful elements.
🧐 EASY TO ASSEMBLE: Our 12 x 12-inch foam floor jigsaws match perfectly so you can combine them to create a customized area with a unique look. You can choose between the 18 (2 for free) piece set that includes 27 borders, or the 36-piece set with 54 borders. These puzzle floor mats cover a maximum of 16 sq ft, and 36 sq ft respectively.
😊 CLEAN & SAFE ENVIRONMENT: The EVA foam interlocking tiles have a 0.4-inch thickness that keeps kids safe and comfy, preventing accidents by isolating them from hard floors. This gym mat surface is waterproof and durable, as well as super easy to clean so you can always make sure that your kids are playing in a proper environment.
Sale
Sensory Wall Sequin Flip Fabric for Kids
🌷【0.2″ Large Sequins for Better Tactile & Visual Stimulation】The special tactile stimulation sequin fabric, the sequins are bigger and more obvious, and has a children's product certification certificate, which is more suitable for kids' tactile and visual tracking exercise.
🌷【Fun Sensory Wall Graffiti Fabric, Available Anywhere, Reusable】Pleasant finger sensory tactile stimulation, just touch and flip the sequins to draw different objects or letters, it is a sensory graffiti wall cloth that children like very much. It can be used on different places such as floor, wall, table top, or fix the sequin fabric on the wall or moving board, without worrying about soiling clothes and walls.
🌷【Game Toy for Sensory Room Tactile Therapy or Visual Tracking Exercise】Fix the sequin cloth to the wall or plank with nails or glue, it can be turned into a big graffiti sensory wall, suitable for children with autism, ADHD, anxiety Sensory therapy.
🌷【Normal for Some Colored Sequins to Fall off】The cloth needs to be cut manually. Please forgive me for any irregularities or size deviations. There will be extra base fabrics at both ends for securing.
Fat Brain Toys Squigz Starter Set
Suction cup builders in 8 versatile shapes and colors
Stick them to each other and any smooth surface!
Perfect for ages 3 years and up; Made of 100% food-grade silicone; BPA-free, latex-free
Encourages creativity, experimentation, sensory stimulation; helps motor skills, problem-solving
Encourage messy play outdoors (where it's easier to clean up!) with these ideas:
Create a mud kitchen
Draw with sidewalk chalk
Create a water and sand table
Collect seasonal items on a nature walk in your local park, like autumn leaves and pine cones
Play with bubbles
Integrating Sensory Play in Daily Learning
One of the great things about sensory play is that your child naturally engages with it all of the time.
Sensory learning happens when your child pets the family cat, pours water from a cup into the bathtub, makes a den out of a cardboard box, or turns their night light on and off to hear the click of the button.
For children with special needs, sensory play is important for teaching self-regulation, improving focus, and practicing fine and gross motor skills.
Although your child will organically engage in sensory play, you can encourage their learning by incorporating sensory activities into your daily routines. For example:
At mealtimes

Describe the color of the foods on their plate
Introduce foods with new textures
Have your child help with meal preparation by measuring, cutting, and counting ingredients

At bathtime

Provide toys that float, pour, and squeeze

At bedtime
Hatch Rest Baby Sound Machine
Our latest, updated Rest 2nd gen sound machine is now Wi-Fi enabled, with dimmable clock and even more features for dreamy sleep!
Sound Machine. Your Rest 2nd gen comes fully loaded with expert curated sleep sounds like white noise, ocean, wind, fan, heartbeat, rain, lullabies and more to keep your little one dreaming through the night. To access even more content, including sleep stories, modern lullabies, mini mindfulness moments and more, give Hatch+ membership a try! Subscription sold separately in app; free trial included.
Smart Night Light. Fun, bedside lamp with infinite custom color hues. Perfect for boys or girls. Illuminate the crib and changing table to ease nighttime infant feedings. Make the dark less scary in your child's room with a calming glow.
Time-to-Rise & Time-for-Bed. Program color and sound to let your early riser know when to stay in bed and when it's ok to wake up. Build a routine to train your little one to wind down for naps and bedtime.
No products found.
References
Cleveland Clinic. (2022, March 18). What Is Sensory Play? The Benefits for Your Child and Sensory Play Ideas. Cleveland Clinic. https://health.clevelandclinic.org/benefits-of-sensory-play-ideas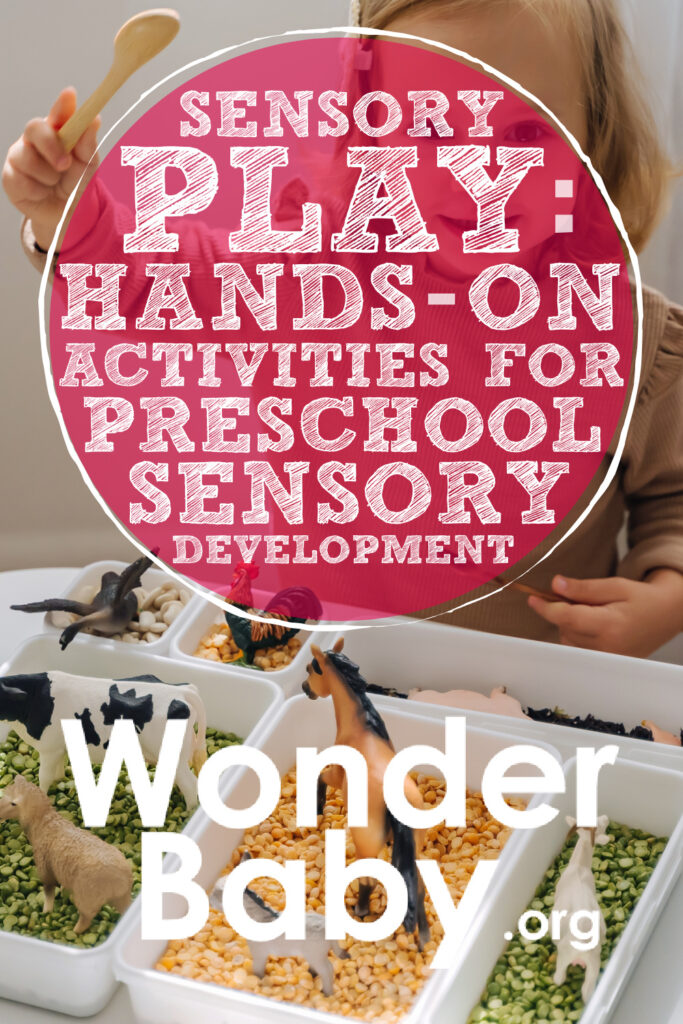 Related Posts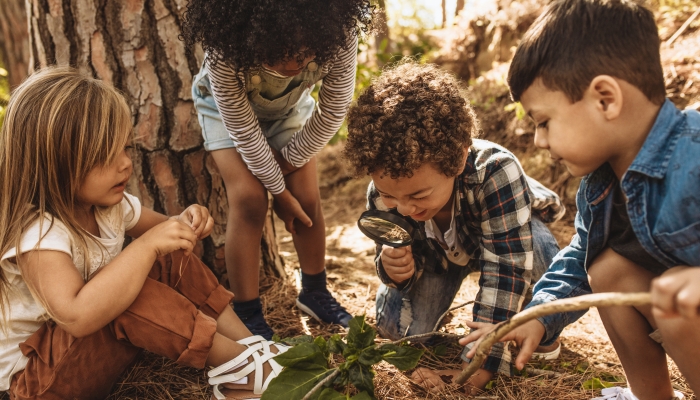 Math and Science, Sensory Activities
Looking for things to do outside with your preschooler? These ideas for outdoor learning are easy, inexpensive, informal, and best of all, fun!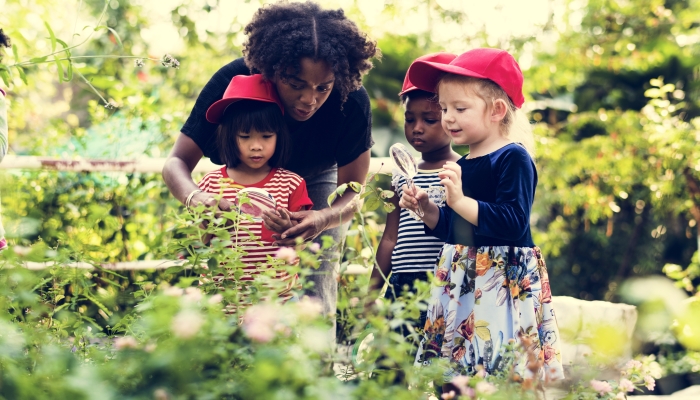 Math and Science, Sensory Activities
Ready to discover the joy of gardening with your kids? Our expert tips and fun, hands-on gardening activities will cultivate a love for nature.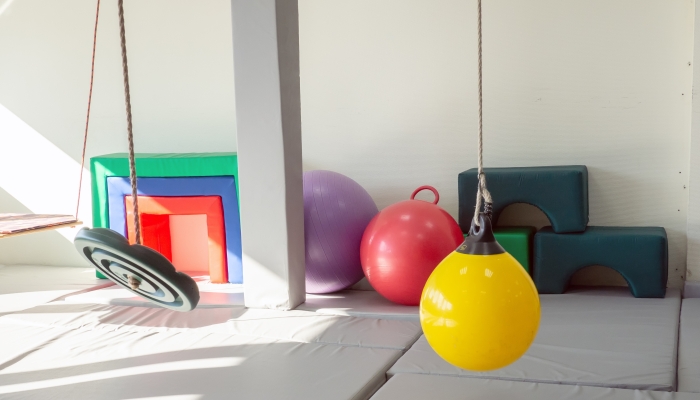 Sensory Activities
Have you considered creating a sensory room or sensory space in your home? It doesn't have to be difficult or expensive. Take a look at these simple ideas.