It's that time of year again—time to start thinking about presents. Writing our holiday gift list can be fun, but can also sometimes be a challenge, especially if we're trying to find just the right gift for a child with a visual impairment.
If your child is blind, you probably know what they like or don't like, but it can still be difficult to find appropriate toys at the mall or department store. And if you're shopping for a child you don't know as well, like a niece or nephew, you may be feeling completely overwhelmed.
Consider this your rescue! I've been talking to people all over the web who create toys, books and other products for blind babies and children and I've asked them to donate some of their best items for this year's Holiday Giveaway. We have a wonderful collection of books, toys and CDs this year, and even if you don't win, this list can serve as the perfect shopping list!
So check out our 15 Giveaways below and enter as many as you like. Click on the giveaway links below to enter each contest and you can earn up to 6 entries on each page! Commenting on this page will not enter you in the contest - you need to click through to the pages for the item(s) you want to win. All giveaways will end on December 17th 2014.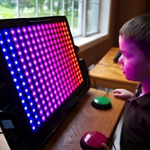 1. LightAide Giveaway
This is the BIG giveaway this year! The LightAide from Philips and Perkins Products creates a variety of interactive displays of color that support core learning goals and help instill the building blocks of literacy and mathematical concepts in learners with low vision, cognitive disabilities and other special needs. [Enter to Win!]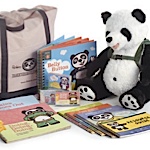 2. Perkins Panda Giveaway
The Perkins Panda Early Literacy Program is a wonderful compilation of materials designed to help you instill a love of books and reading in your child through a set of fun toys and stories. The kit comes complete with three print/braille picture books, three audio cassettes, three activity guides and a story box. [Enter to Win!]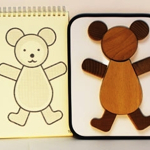 3. Hungry Fingers Giveaway
This story is told by a drawing that is in the process of being drawn. You (and your child) discover what is being drawn just as the drawing discovers it himself! You can play along by feeling the tactile images in the book or by building the image with the magnetic puzzle pieces that are included with the book. [Enter to Win!]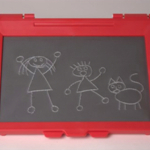 4. inTACT Tactile Sketchpad Giveaway
The inTACT Sketchpad is a super cool (and easy to use) pad that allows you to create tactile doodles on special paper. All you need is the pad and included stylus along with special tactile drawing film from APH (sold separately, but at a surprisingly low price I must say) and you're good to go! No batteries, no plugs... just lots of drawing fun! [Enter to Win!]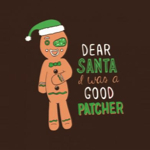 5. Holiday T-Shirt Giveaway
This holiday season Eye Power Kids Wear has three fun t-shirt designs to choose from: Their new Oh Deer It's Cold (this is the one Ivan will be sporting this Winter), the new Dear Santa I was a Good Patcher and now classic Glasses Snowflake (which I kind of wish came in adult sizes). [Enter to Win!]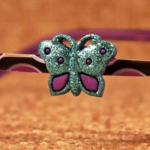 6. mEYEwinks Giveaway
mEYEwinks wants kids to feel good about their glasses. That's why they've come up with these unique trinkets to add to glasses and sunglasses. They're bright and colorful and with such a wide range of choices available your child can really express their own personality through their glasses! [Enter to Win!]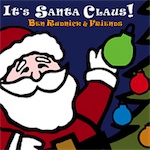 7. Christmas CD Giveaway
On Ben Rudnick and Friends Christmas CD, It's Santa Claus, they play some of your favorite classics, like Let it Snow and Frosty the Snowman, as well as their original title song, It's Santa Claus. Unlike some other Christmas music, this CD isn't going to be putting anyone to sleep! [Enter to Win!]
 
 
 
 
 

8. Kids Bright Eyes Giveaway
Kids Bright Eyes is in the business of selling cute and colorful glasses frames that your child will want to wear! Wearing glasses can be difficult for young kids, so Kids Bright Eyes tries to make it easier by providing you with frames your child will love! [Enter to Win!]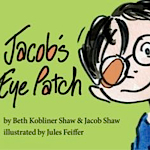 9. Jacob's Eye Patch Giveaway
We're all a little different and we've all got something that makes us special or makes us stand out. That's the message of the new book Jacob's Eye Patch, a story about a young boy who wears an eye patch to help his weaker left eye get stronger. [Enter to Win!]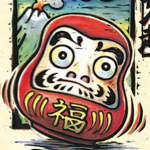 10. Yuko-chan and the Daruma Doll Giveaway
Yuko-chan and the Daruma Doll is a sweet picture book from Tuttle Publishing about a little girl who is blind who comes up with an idea to save her village in Japan. Have you ever seen a daruma doll? They are little dolls with no pupils. You make a wish when you fill in the first pupil then fill in the second when your wish comes true. [Enter to Win!]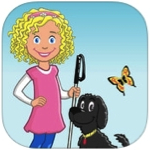 11. Exploring Braille App Giveaway
The new app from Sensory Sun Technologies, Exploring Braille with Madilyn and Ruff, helps kids learn their braille alphabet through a fun and interactive iPad app game that is fully accessible through VoiceOver and a refreshable braille display. [Enter to Win!]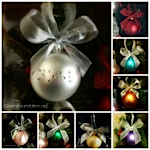 12. Braille Christmas Ornament Giveaway
These glass ornaments come in eight colors and feature a word of your choice in braille (up to six letters). For this giveaway, the winner can choose the color they want (may be limited by inventory) and the word they want on the ornament. Names are fun, and so are messages like "hope," "love" or "peace." [Enter to Win!]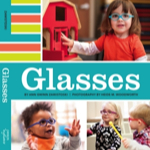 13. Glasses Board Book Giveaway
Ann Gwinn Zawistoski created this sweet and simple board book for young children called Glasses, published by Peeps Eye Wear. The photos are bold and bright, the text is simple and rhymes and each and every child in this book is wearing a pair of glasses. Perfect! [Enter to Win!]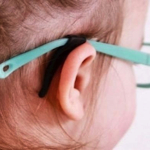 14. Stay Puts Giveaway
These Stay Puts from Kids Bright Eyes are designed to keep glasses where they're supposed to be: On your face! They are simple to attach to glasses frames, they come in an array of colors and they are made from safe and comfortably soft silicone material. [Enter to Win!]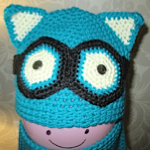 15. Hand-Made Crochet Hat or Cowl Giveaway
In this giveaway you can win either a crochet hat or cowl in a size and color of your choice, depending on what's in stock. The hats are super-cute Be-speckled Kitties and the cowls feature a nose and whiskers design! [Enter to Win!]
 
 
 
 
 

If you have any questions about any of these products or about the giveaway rules, please contact me (Commenting on this page will not enter you in the contest - you need to click through to the pages for the item(s) you want to win). Good luck!